Kyoto's Gion is one of the largest, and likely the most famous Geisha districts in Japan. Every day, thousands of tourists come to explore its traditional wooden "Machiya" buildings and cobbled streets, and of course to try and snap a picture or two of a Geiko (Geisha in the local dialect) or Maiko (a junior or apprentice Geisha). The heart of Gion is Hanami-Koji Street, running south from the main Shijo-dori Avenue. Here you can find many high-end restaurants and tea houses called "Ochaya" occupying the pretty, traditional wooden buildings with their narrow fronts. 
At the southern end of Hanami-Koji Street you can find Gion Corner. Every evening, you can watch shows containing a mixture of Geisha dances, traditional music and examples of tea ceremony and Ikebana, or flower arranging. If you are visiting in April or October, Gion Corner also hosts the Miyako Odori festival where dozens of Geiko and Maiko take part in a larger show featuring classical dance and music.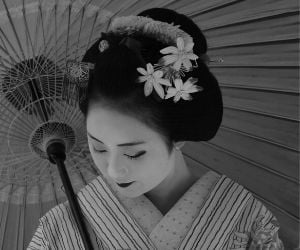 The area around Shirakawa Canal in the north is a beautiful part of Gion to explore,and is often slightly quieter than the rest of the district. Here you can find restaurants sitting right on the bank of the canal, many of which are only accessible by small bridges across the canal itself. It also has a high concentration of cherry blossoms making it especially lovely in spring and a perfect place for romantic evening stroll.