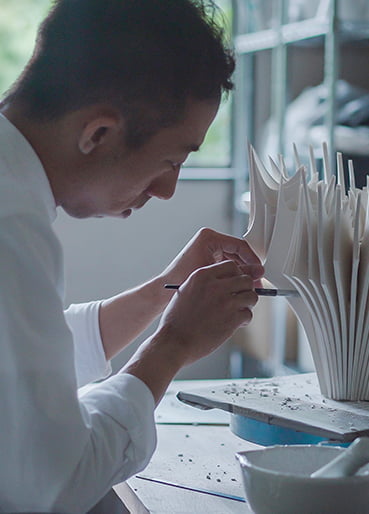 Japanese ceramicist Yuki Nara is a descendant of the Ohi family, a long line of renowned ceramicists. His grandfather, Ohi Chozaemon X, was decreed a 'Living National Treasure of Japan'. He pays homage to his heritage by fusing this know-how from the past with new technology, including 3DCAD and programming.
It was only after studying architecture that Yuki Nara took an interest in pottery. Gradually, he transfers his academic knowledge to his new passion, and uses 3D modelling and design tools to revolutionise the traditional process of making ceramics. His pieces are then sculpted, assembled and baked in keeping with the ancestral rules of the art, established by his family.
Through this modern, innovative approach, Yuki Nara is creating a new form of ceramic expression: one that's avant-garde, light, poetic and… architectural.
Nara-san draws on the knowledge and inspiration of 11 generations of artist and his exquisite work is internationally renowned.
Featured Products by Yuki Nara