Take a step back in time with KWT and go for a stroll around the historical Nagamachi Samurai District.

Unlike many of Japan's largest cities, Kanazawa has been fortunate to come through much of the country's oft-turbulent history relatively unscathed. This, coupled with incentives given by the ruling Maeda Family to encourage samurai and merchants to settle in the city, have left Kanazawa with a wealth of well-preserved buildings dating back to the Edo Period from 1603 to 1868.

One of the best places in Kanazawa to see this traditional architecture, and to learn a great deal about the history of the city, is the Nagamachi Samurai District, just a short distance from Kenroku-en and Kanazawa Castle Park.
Perhaps the most well known of the buildings here is the Nomura-ke, otherwise known as the Nomura Samurai House. This is a fabulous example of the kind of house belonging to a wealthy samurai family.

In fact, the Nomura were among the most important and well respected families in Kanazawa, serving the Maeda Clan in important roles for 12 generations. Nomura Denbei Nobusada was a most trusted retainer of Maeda Toshiie, the first Lord of Kanazawa and in recognition of his service, was granted an annual salary of 1,000 koku (enough rice to feed 1,000 people for one year) and his family were granted a considerable amount of land close to the castle.
The lavish house is filled with antiques, including a suit of the Nomura family samurai armour, and is built around a central garden. The garden is particularly stunning, containing an elegant mix of evergreen trees, koi ponds and stone lanterns. It was designed in such a way that it has a different focal point depending upon which room you view it from.

Throughout the house are beautifully painted screen doors, designed by the master painter of the Maeda Lords, reflecting the high esteem to which the Nomura Family were held. The upstairs of the house now holds a tea room where visitors can relax and enjoy a traditional tea ceremony in a casual setting.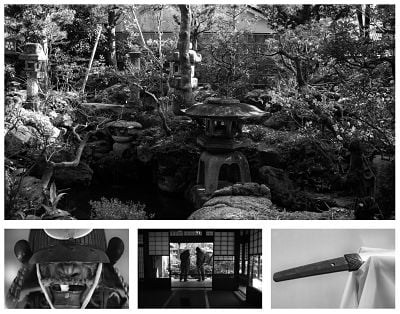 There are several other buildings in the Nagamachi District that are well worth visiting, and all in very close proximity to the Nomura-ke. The Shinise Kinenkan Museum is a great example of an Edo Period pharmacy which also showcases local crafts.  The Ashigaru Shiryokan Museum is a small museum showing how the Ashigaru, low ranking spear-men, would have lived and the Maeda Tosanokami-ke Shiryokan is a great museum containing many artefacts belonging to the Maeda Clan, including beautifully preserved suits of samurai armour.
Special Thanks to: