Nishiki Market – Sampling the Delicacies of Kyōto's Kitchen
No trip to Japan would be complete without eating as much delicious and traditional food as possible. Traditional markets are great venues to sample all the amazing and curious treats Japan has to offer, and one of the oldest, and best, is Kyōto's Nishiki Market. 
Founded at least 400 years ago and located in a Shotengai,or covered shopping street, Nishiki Market contains over a hundred shops, some of which have been run by the same family for several generations. Alongside fresh vegetables, fish and meat, you can also find wagashi (Japanese sweets), tsukemono (traditional pickled vegetables) and many varieties of tea.
Many of the shops have free samples available but if you are more hungry, there are many stalls where you can grab a couple of grilled yakitori skewers or other snack foods to eat on the fly. There is a good chance that the sight and smell of all that amazing food will set your stomach rumbling and there are plenty of larger restaurants where you can sit down and satiate your cravings.
While it is predominately a food market, there are also some old and quite famous shops selling knives and cookware, and even the occasional souvenir shop to cater to the ever increasing numbers of tourists coming to try the local delicacies.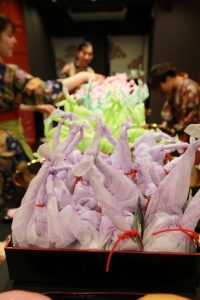 Nishiki Market is an easy walk from Shijo Station on the Karasuma Subway Line or Karasuma Station on the Hankyu Line.